Ebisike Tochukwu Receives Honorary Doctorate Degree Award From Prowess University, Delaware USA
It is with great pleasure we announce that our Managing director, Arc. Ebisike Tochukwu was on the 20th of May 2023, conferred with an Honorary Doctorate degree in Architecture and Construction Management from Prowess University, Delaware, U.S.A.
The induction took place at Conference center, University of Ibadan under the auspices of the Institute of Arts, Management and Professional Studies.
The Institute organizes her induction and award summit twice annually to induct new members and honor prominent professionals who have made invaluable contributions to human development through the recommendation of the award selection committee, past awardees, journalists, body of academia, organizations, and members.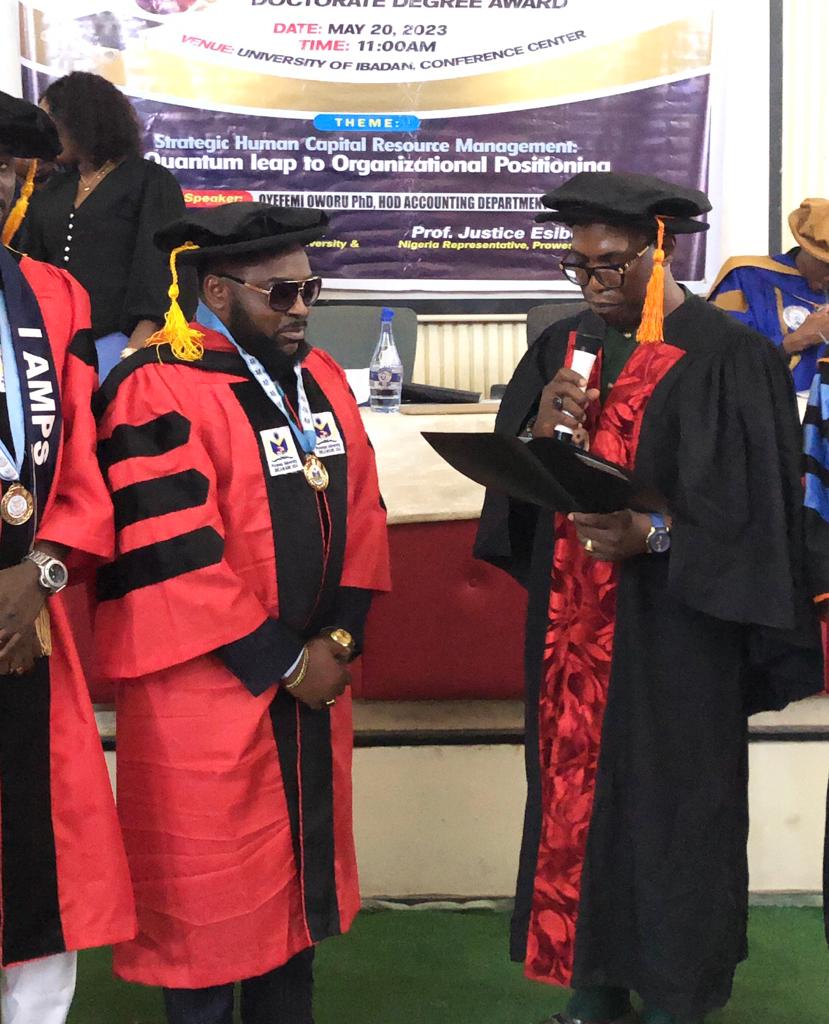 Amongst the respected committee, some of the prominent chief guests that were present at the conferment include Prof. Prince Eze Chidi Nwabua IAMPS Registrar/ African representative of Prowess University, Prof. Amuda Kannike Abiodun (SAN) IAMPS president, Prof. Justice Esibe, FCIAP and Dr. Oyefemi Owuru.
This recognition of the Honorable Doctorate was achieved by Arc. Ebisike Tochukwu for his exceptional achievements in his field, consistent dedication towards the architectural profession, project management and construction delivery in Nigeria through his Architectural studio coy Ebisike Tochukwu Architects Ltd. with offices in Lagos and Imo State, Nigeria. His experience which spans over a decade and half in the architectural industry has assisted him with leading the way to this Ph.D degree.
One of his numerous contemporary projects "MAITAMA URBAN" commissioned in FCT Abuja.
Arc. Ebisike Tochukwu is a full member of the Nigerian Institute of Architects (NIA) and the Architects Registration Council of Nigeria (ARCON). In his quest for international standards and ethics, he is bagged with international architectural memberships. Attaining chartered status with the Royal Institute of British Architects (RIBA), and the reputable International Associate Membership with the American Institute of Architects (AIA). He is a Chartered Management Consultant (CMC) and a fellow of Institute of Management Consultants (FIMC). He currently holds a certification from the prestigious Harvard University Graduate School of Architecture U.S.A in Architectural Imagination.
He has won numerous international awards which include but not limited to:
European Award for Best Practices 2020. Issued by European Society for Quality Research (ESQR) · March 2020, Best Residential Architecture Studio – Nigeria. Issued by Build Architecture Awards · Nov 2019, Most Innovative Design/ Build Company Nigeria 2019. Issued by Mea Markets African Business Excellence Awards · Oct 2019, CEO AFRICA Awards, 2023. Issued by CEO Magazine Africa. March 2023 and most currently this Doctorate Degree.
While conferring the honour on Arc. Ebisike, the African Representative, Prowess University & Founder/Registrar IAMPS, Eze Nwauba said, "The University has conferred upon Ebisike Tochukwu Ihunanya the Degree of Doctor of Philosophy in Architecture and Construction Management, Honoris Causa, I hereby authorize that he henceforth be addressed as Doctor Ebisike Tochukwu Ihunanya."